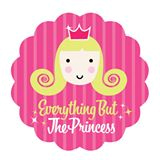 Eight years ago, a passion of mine became a reality. Today, I am blessed enough to still carry out my vision each day. That passion was having a store dedicated to fine boutique girls' fashions –– a dream that I've fostered after having two little girls of my own, constantly searching for unique clothing, and not finding everything I desired in one place. With that vision, I embarked on my quest to create astore that I, as a busy mom, would want to shop at –– a one-stop shop with the best selection of dresses and matching accessories for all ages, so I didn't have to scour the Internet to put together one outfit.
Over the course of eight years, **Everything But The Princess** now offers more than 100 brands and serves clients worldwide. We take great pleasure in hand-selecting each of our products to offer our clients high quality and uniquely original children's clothing. I have always believed an outfit can change everything. Girls that feel well put-together and stylish exhibit strong confidence and are ready to take on the world with pride. I feel beyond blessed to work with amazing people around the world and being able to dress their little girls and boys in clothing that helps to express their individuality.
Our boutique is constantly evolving to serve the needs of our clients by adjusting to new trends and, of course, the economic climate. We realized that we needed to find more designers at a reasonable price point without compromising great quality. At the children's fashion market that year, we began that search. I still recall seeing the most beautiful holiday dresses in a showroom window and thinking that they were likely in the higher end price range. To our amazement, these stunning girls' dresses from Isobella & Chloe were about half the price we expected, but finely constructed with quality fabrics comparable to our other best-selling special occasion lines.
Our first season with Isobella & Chloe was a huge success. The dresses sold out immediately, and customers were calling for more. The next season, we added their more casual knit collection –– many of the pieces were so cute that one could use them for special occasions as well! The baby items were fashioned with the softest cottons and mothers were reporting that they washed and wore like a dream. The line quickly became one of our best sellers, and the rave reviews mirrored our own when we first saw Isobella & Chloe.
In the many years we have carried Isobella & Chloe, the quality, fabrics, and designs have remained consistent. Even in the hardest of financial times when fabric and production costs were skyrocketing, the company still managed to offer amazing pricing without compromising service or quality. They are a brand we can always rely on for both timely deliveries and casual to formal on-trend fashions for all size ranges.
We were thrilled when Isobella & Chloe added hair accessories and swimwear. Their swim division offers quality that compares to designers at twice the price point. In our first season carrying swim, we couldn't keep the merchandise in stock. Our reorders literally sold out as soon as the merchandise arrived!
We love being able to offer this caliber of dresses, knit sets, swimwear and accessories at a price that fits everyone's budget. While some designers may initially sell like fireworks only to fizzle out a season or two later, we are happy to say Isobella & Chloe just grows stronger for us every season. We look forward to watching this amazing company grow and working with them for many years to come.
We offer Isobella & Chloe in our online children's boutique Welcome to Everything But The Princess – Boutique Clothing For Girls