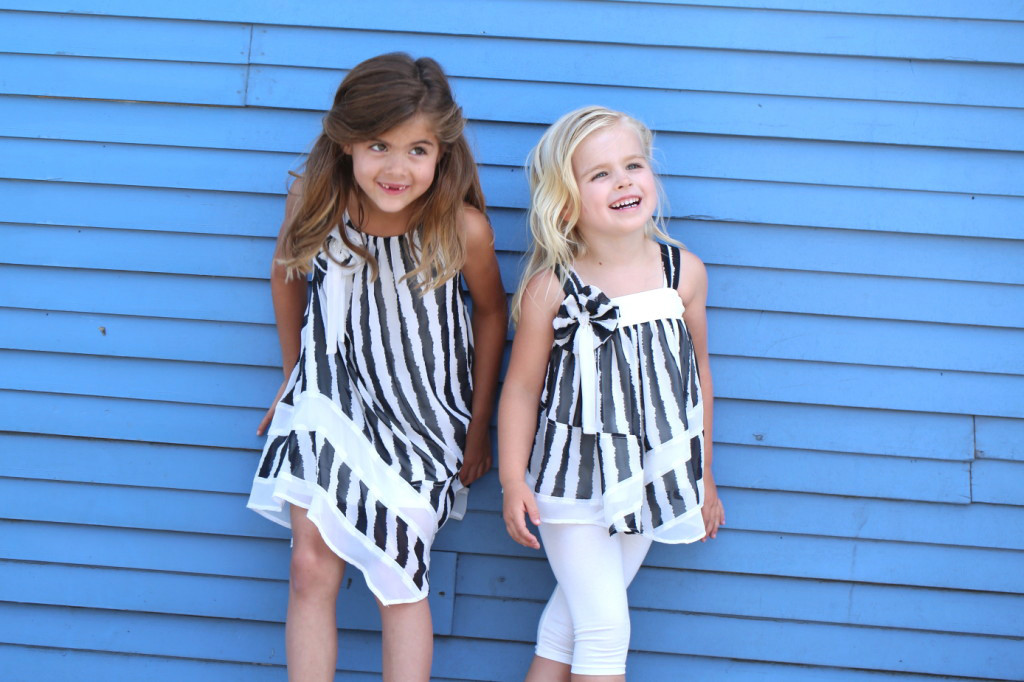 It's a  celeZebration from the  Isobella & Chloe's Spring Dress Collection! We are pleased to announce that our spring styles are available at retailers' stores now. We're celebrating the good news with our Vienna group, an easy-breezy zebra-striped coordinating sister set. One's  a summery light chiffon, handkerchief-hemmed creation with transparent silk gauze-like accents. The scoop neck further complements the carefree style, together with the I&C signature fabric corsage appliqué. Sways with the motion of today's active young girls.
The sister style is a tunic that features multi twirly-girly layers and a fab fabric appliqué. This comfortable outfit perfectly pairs with white stretch pants that can be easily hiked up for jumping puddles of spring showers and other active playtimes.
Both are perfect for sunny days, zoo ventures, and spring vacations! Clever moms may also pack them as an on-the-go swimwear cover-up throughout the spring and summer seasons!
Visit the Isobella & Chloe Facebook and blog sites often for weekly news about our 2015 spring dresses and swimwear. The Vienna two-piece set, style 8603WE, is available in sizes 2T-6X; and the A-line dress, style 8604WE, is available in size 4-16. To find an Isobella & Chloe retailer near you, go to https://isobellaandchloe.com/store-locator/