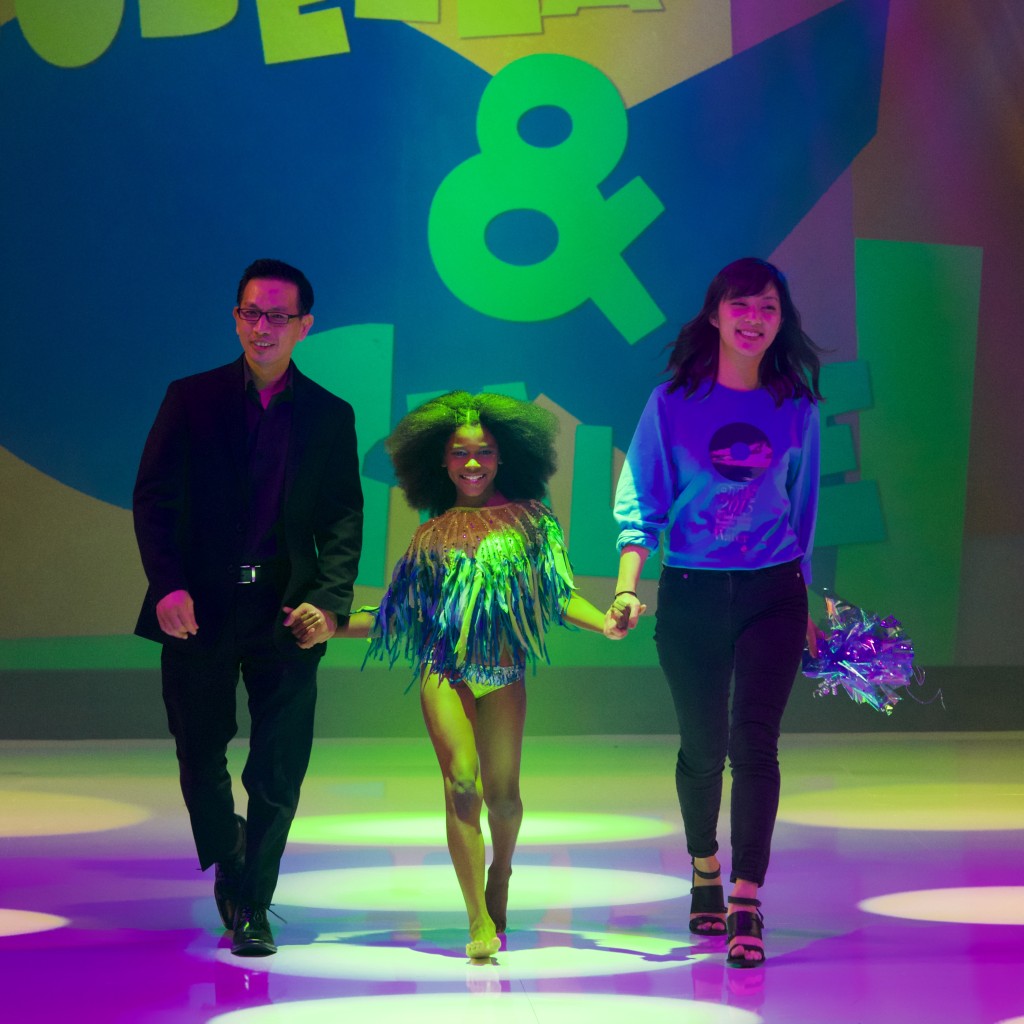 May 2, 2015 – Otis College of Fashion and Design held their 33rd Annual Otis Scholarship Benefit and Fashion Show at the Beverly Hilton Hotel.  About 900 attendees participated, including professionals in entertainment, fashion, business and finance, plus students, alumni and other supporters. Isobella & Chloe's owner, Patrick Yang, represented our brand at the event and awarded the super-talented Michelle Kim with the Otis Thimble Award for having the best sketches and overall look for the fashion runway.
The event was such a rewarding experience — even one that filled me with a warm sense of pride.  We got to see everybody's collaborative work coalesce into one grand and glitzy event.  We got to work with amazingly gifted students and dedicated staff, notably Rose Brantley and Katheryn Igarashi, who were both there with us through the whole semester-long mentorship program.
By imparting our brand's knowledge and practical experience, Gloria Corpus and I hoped to give these talented student designers good insight on how to bring a swimwear collection to market. Our involvement gave students an inside look into the children's fashion industry and how challenging and competitive it is to make a fashion line profitable. During this whole process, this Trina Turk quote from Inc. Magazine resonated with me, which was,
"I think the recession changed the industry for the better. People are thinking more about what they are purchasing. The customer is thinking, 'Am I going to spend $350 of my hard-earned money on this dress?' That's how I shop – I'm only going to buy something that I love. It's forcing the entire industry to create better products."
Through this mentoring process, students learned the real-life design process: testing, manufacturing, fabrication techniques, materials, merchandising, and, most importantly, how to create knockout fashion. That is the major tenet at Isobella & Chloe, and an important lesson for these promising, talented, and creative individuals on the verge of branching off into their own trials in the fashion industry.
Since the theme of the Otis Fashion Show this year was water, we asked the students to create a girls' swimwear collection inspired by the ocean's delicate and stunning ecosystem. Inspiration came from the rich jewel-tones one would discover from the ocean, coral reefs, and sea life. The project was a commemoration to our oceans and a reminder to preserve our ocean life by living conscientiously and conserving water. This experience was a true reflection on how creating art through fashion can help promote the environmental message of conservationism and sound stewardship of our natural resources. It was a perfect example of what it means to be fashion-forward fashionista – where ones outfits truly represent our sentiments.
For my much-beloved readers, you can find more information and pictures of Isobella & Chloe at the Otis Benefit both here and here.